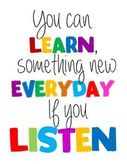 Important Dates to Remember
11/24-No School
11/25-No School
12/7-Mid-Term 2nd Quarter; Need 5 A.R. Points for the Quarter
12/23-Early Out
12/26-12/31-No School
1/1-1/2-No School
1/3-School Resumes
1/20-End of 2nd Quarter; Need 10 A.R. Points for the Quarter
2/17-No School
2/20-No School
2/22-Mid-Term 3rd Quarter; Need 5 A.R. Points for the Quarter
3/17-No School
3/24-End of 3rd Quarter; Need 10 A.R. Points for the Quarter
3/28-Conferences 4:00-8:00 p.m.
4/4-Conferences 4:00-8:00 p.m.
4/7-No School
4/10-No School
4/26-Mid-Term 4th Quarter; Need 5 A.R. Points for the Quarter
5/17-Need 10 A.R. Points for the Quarter
5/24-End of 4th Quarter; Last Student Day
Progress reports are sent home on Thursdays. Please sign and return to school with your child on Friday.
Classroom Rules
Ready-Have pencils, notebooks, etc... Turn in homework. Be quiet when appropriate. Have A.R. book. Have clean mask/face shield and water bottle daily.
Respectful-Respect others (classmates, teachers). Respect school property. Do not talk while others are talking. Respect yourself. Respect personal space.
Responsible-Be in your seat and ready for the day when the bell rings. Clean up after yourself. Keep track of your things. Get homework done and handed in on time. Wear mask/face shield and do not play with it.
Passwords are written on the inside cover of planners.
Your child needs to be in good standings to participate in extra activities such as: field trips, intramural basketball, class parties, etc. This means that they need to have: good behavior, grades higher than D+, and be caught up on A.R. points.
Please check your child's planner every night. In it you will find their homework, any upcoming tests, and other important information.
Class Schedule
8:30-8:50 Spelling
8:50-9:25 Grammar
9:25-10:05 Reading
10:05-10:25 Morning Recess
10:25-11:05 Science/Health
11:05-11:25 Silent Reading
11:25-11:55 Lunch
11:55-12:25 Recess
12:25-1:32 Math
1:32-1:55 Music
1:55-2:18 Phy-Ed
2:18-2:35 Read Aloud/Snack
2:35-3:05 Social Studies
3:05-3:10 Agendas
3:15 Dismissal
Mondays 10:30-11:00-Library