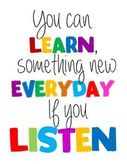 Important Dates to Remember
4/27-4th Q. Mid-Term; Need 5 A.R. points for 4th Q.
5/18-Need 10 A.R. Points for 4th Q.
5/20-No School
5/27-Last Day of School
Progress reports are sent home on Thursdays. Please sign and return to school with your child on Friday.
Classroom Rules
Ready-Have pencils, notebooks, etc... Turn in homework. Be quiet when appropriate. Have A.R. book. Have clean mask/face shield and water bottle daily.
Respectful-Respect others (classmates, teachers). Respect school property. Do not talk while others are talking. Respect yourself. Respect personal space.
Responsible-Be in your seat and ready for the day when the bell rings. Clean up after yourself. Keep track of your things. Get homework done and handed in on time. Wear mask/face shield and do not play with it.
If you forget a password for something, remember to check the inside of your planner.
You need to be in good standings to participate in extra activities such as: field trips, intramural basketball, class parties, etc. This means that you need to have: good behavior, grades higher than D+, and be caught up on A.R. points.
Please check your child's planner every night. In it you will find their homework, any upcoming tests, and other important information.
Class Schedule
8:30-8:45 Early Math
8:45-9:00 Grammar
9:00-9:50 Reading
9:50-10:05 Spelling
10:05-10:25 Morning Recess
10:25-11:05 Science/Health
11:05-11:25 Silent Reading
11:25-11:55 Lunch
11:55-12:25 Recess
12:25-1:32 Math
1:32-1:55 Music
1:55-2:18 Phy-Ed
2:18-2:35 Read Aloud/Snack
2:35-3:05 Social Studies
3:05-3:10 Agendas
3:15 Dismissal
Mondays 10:30-11:00-Library