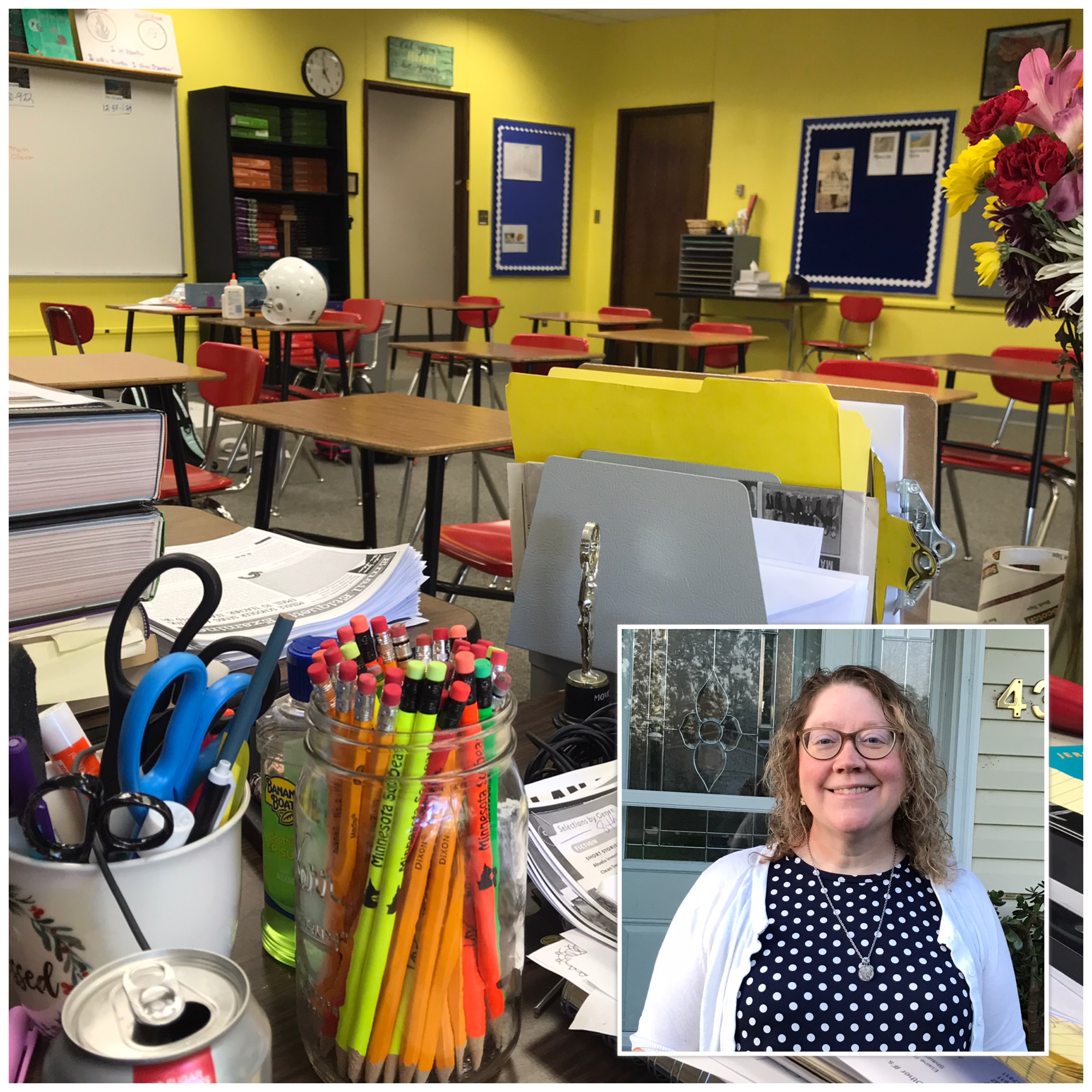 Hello! My name is Mrs. Tina Taus. I am entering my 25 year of teaching English to middle school and high school students. It is my first year here at Grygla High School. Go Chargers!! I am a high school graduate of Red Lake Falls, MN. I attended Northland Community and Technical College and earned my Associates of Arts Degree. Then I attended Bemidji State University and earned my Bachelor of Science Degree in English /Secondary Education with an emphasis in Creative Writing. I earned my Middle School License as well. In 2009, I earned my Masters Degree in Education: Creative Arts from Lesley University.
Aside from teaching, I also coach Knowledge Bowl, and direct the fall play. I will also be assisting with the Grygla chapter of the Minnesota Honor Society. In my free time I enjoy listening to music, reading books, watching my sons play sports and act on the stage, and chasing after my two grandchildren. I also love to take photos, help my mom with her horses, and run.
I live in Middle River with my husband Dan. We have four kiddos, two grandchildren, two cats and a dog. Our house is busy!
Email: ttaus@grygla.k12.mn.us
Phone: (218) 294-6155 Ex. 306
If you are looking to contact me, the most effective way would be through email.
"THAT IS PART OF THE BEAUTY OF ALL LITERATURE. YOU DISCOVER THAT YOUR LONGINGS ARE UNIVERSAL LONGINGS, THAT YOU'RE NOT LONELY AND ISOLATED FROM ANYONE. YOU BELONG." -F. SCOTT FITZGERALD
Seneca  
   On the shortness of life
Seniors - British Literature
Juniors - American Literature

Sophomores - World Literature

Freshmen - 9th Grade English

Eighth Grade - 8th Grade English

Seventh Grade - 7th Grade English
"BOOKS ARE THE CARRIERS OF CIVILIZATION. WITHOUT BOOKS, HISTORY IS SILENT, LITERATURE DUMB, SCIENCE CRIPPLED, THOUGHT AND SPECULATION AT A STAND STILL." -BARBARA TUCHMAN
Seneca  
   On the shortness of life
"EVEN IN LITERATURE AND ART, NO ONE WHO BOTHERS ABOUT ORIGINALITY WILL EVER BE ORIGINAL: WHEREAS IF YOU SIMPLY TRY TO TELL THE TRUTH WITHOUT CARING HOW OFTEN IT HAS BEEN TOLD BEFORE YOU WILL, NINE TIMES OUT OF TEN, BECOME ORIGINAL WITHOUT EVER HAVING NOTICED IT." -C.S. LEWIS
Seneca  
   On the shortness of life
These are the novels we will be reading throughout the classes for the 2019-2020 school year.
Potential English 7 Units of Study:
7 - Number the Stars - Lois Lowry
7 - The Giver - Lois Lowry
7 - Call of the Wild - Jack London
7 - Freak the Mighty - Rodman Philbrick
8 - To Kill a Mockingbird - Harper Lee
8 - The Outsiders - S.E. Hinton
9 - Maus - Art Spiegelman
9 - Maus II - Art Spiegelman
9 - The Perks of Being a Wallflower - Stephen Chbosky
10 - Monster - Walter Dean Myers
10 - The Great Gatsby - F. Scott Fitzgerald
10 - Absolutely True Diary of a Part-Time Indian - Sherman Alexie
10 - I Am Malala - Christina Lamb & Malala Yousafzai
11 - 13 Reasons Why - Jay Asher
11 - Different Seasons - Stephen King
11 - The Scarlet Letter - Nathaniel Hawthorne
11 - On The Fringe - Ed. Donald Grillo
12 - Sold - Patricia McCormick
12 - The Road - Cormac McCarthy
12 - The Lord of the Flies - William Golding
Shakespeare plays we will study in class:
Romeo & Juliet (8th Grade)
Julius Caesar (9th Grade)
A Midsummer Night's Dream (10th Grade
MacBeth (12th Grade)